Good action anime full of great characters and a lot of entertainment Samurai Champloo has its pros and cons, in this review I will try to present them.
Plot
In my opinion, the plot in this anime is crap. The main plot is boring, uninteresting and in fact the plot can be compared to the fillers from Naruto Shippuden, BUT I assure you that the plot does not play a big role in this particular anime. Honestly, I'm surprised, that I'm saying that. Usually, the main thing that distinguishes good anime from bad for me is the plot. In this case, however, the plot takes the form of a journey with the characters of the series, due to the fact that they are done in a great way, the plot does not matter much. Actually, what I liked the most about this anime are the moments that don't relate to the main theme and are just chill, focusing on the journey to the goal itself.
The trail is the thing, not the end of the trail. Travel too fast and you miss all you are traveling for.

Louis L'Amour
Characters
The characters in Samurai Champloo are one of the strongest attributes of this anime. All of them remain in the memory for a long time and we become more attached to them with each episode of the series. I will not describe them all in this review not to spoil them. These characters make the story completely unimportant so that even if it's written by a kid from kindergarden it wouldn't really matter.
Visuals
Here we come to something that I really did not expect and I still do not fully believe. This anime was released in 2004/2005. H O W? The animation is at such a high level that if it was released as new this year, I think no one would've guessed its age. A very smooth fight with elaborate details in which speed and tension are perfectly shown. Below are some examples of these fights.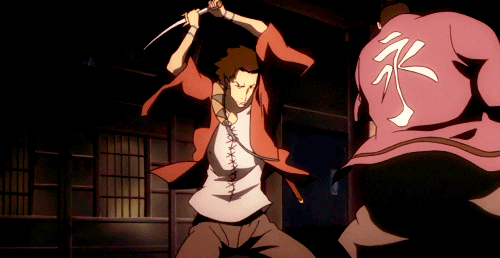 Music
In my opinion, probably the biggest advantage of this anime, something that I listen to all the time after watching the series. Brilliant soundtrack mostly made by great, unfortunately already dead artist Nujabes, as well as some other fantastic artists. A few examples of his amazing tracks below. Even if you are not planning to watch Samurai Champloo, at least listen to these songs, really man they are good.
Nujabes – Arurian Dance
Nujabes – Shiki no Uta
Force of Nature – Nightshift
Force of Nature – Just Forget
To sum up,
Samurai Champloo is a great anime but not for everyone. If you are looking for deep story threads, I think you should watch something else (for example one piece xdd). Nevertheless, I highly recommend this production, thank you for reading my review until the end <3