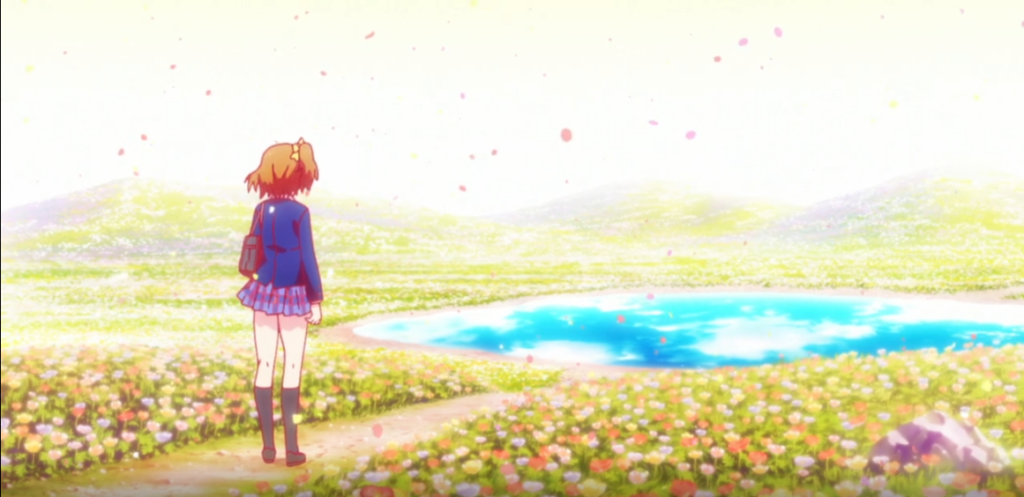 I will not lie : when I first came into Love Live! I was never going to think that I would've ended up writing this or just to be more realistic, I would've never imaged of living and experiencing what I've experienced until this exact moment. This anime is a sort of person who I always needed in my very worst moments, a kind of brother always there to help you, and in all of my loneliness this fake person brought me things and people I always dreamed of.
I don't really get mad whenever someone says that Love Live! is bad or average, it cannot please everyone, but instead I think that it's quite a shame : this person wasn't really able to see what I could see here and all of the amazing stories implicitly told. It has been a year since my first ever review on Anilist of this anime and one year after that my feelings never changed and instead as the times passes I can only feel more in love and grateful to this piece of media that for ever changed my life.
This virtual paper doesn't want to be an introduction to the series, not even a recap, not even a review or a simple analysis; after a year of love and 5 rewatches this is meant to be my final and definitive act of love for something I don't think I will ever experience again and the goal is to reach the heart of someone, something I was able to do in the past and I want to do again because making someone feel something never felt is absolutely beautiful.
The unreachable dream
In Love Live! the main topic is always reaching "something" that is not the success as an idol but "something else", this something else is that thing that everyone looks for without being able to find it, for some reasons. Every human alive has a dream to pursue which can take the form of anything : money, fame, love, family, friends or travelling to make experiences; my dream was, and still is, to crown my basketball career even if now it's more like a dream that I love to think about.
Despite thinking that winning the Love Live! competition is the main goal, even if it actually is, there are many many other things that are a big topic in this show :
Escaping the fake reality you are inside, or to make it more clear is the world you think you are living in. Everyone grew up with a certain mindset of seeing the world and how it sees us, in a good or bad way, and changing yourself is never that easy; sometimes you need something absolutely unique and powerful enough to make you understand what is wrong and what is right. A person grows up thinking his or her body is wrong and for this reason this person will avoid being himself for the sake of not hearing blames from the others, a thing that often leads to losing the person you want to become and instead becoming the doll of everyone. Someone other can feel his behaviour is not well accepted and for such a reason this person will stop acting like he would usually do, limiting himself to the tastes of the others.
Finding again your passion; it is possible that after failing, or being forced to stop, you will lose the love for something you loved and the feeling about this is absolutely devastating for a person who cared so much. Failing must be considered a normal thing because humans are destined to fail most of the times but sometimes it's not easy to recover, in fact someone may quit for the fear of doing the same mistake all over again or for the fear of letting someone down and destroying the expectations. Someone who did put all of the efforts into something and then failing will experience the worst moment of his life, I am the first, but nothing is really lost until it's really over.
Believing and loving the others, even if it sounds stupid and childish this is a thing that many ignore because trusting who is near you is a great thing. The relationships with your friends are the thing anyone should care the most because somewhere in the world there will be that person ready to do anything for you, and many more to come because no one is ever alone.
The Dream, because as I said everyone has a dream even if he will deny it. The apex of the human soul is the desire to reach the dream, the goal, and achieve the gratification of making it up there after all of the efforts, without never giving up.
There will be someone thinking "But these things are extremely obvious in everyone's life" and this is exactly the point, they are so obvious that people will easily forget about them and ignore by instead following what they actually think is the thing desired; the worst mistake an human soul can ever do is exactly forgetting about those things that makes us human and being an human is the pinnacle of the life existence : we are not perfect and in our life we spend time by fixing and changing ourselves to become a better person, even if we don't actually want or notice it.
The goal of Love Live! is to never make us forget about what we love and who loves us because it will often happen to forget about them and we will fall and fail by thinking we can rule the world by ourselves and it is impossible to deny because every person will fail at least once in lifetime.
Love Live! is meant to be the person that tells us to never forget about those who support us because it's always easy to ignore someone and saying "shut up" because this is not what we want to hear at the moment, but most of the times is what someone has to tell us, and by doing so we deny any value of the relationship and enter that "fake world" dominated by seeing what we want to see instead of what we must see. Life is hard but you can win it.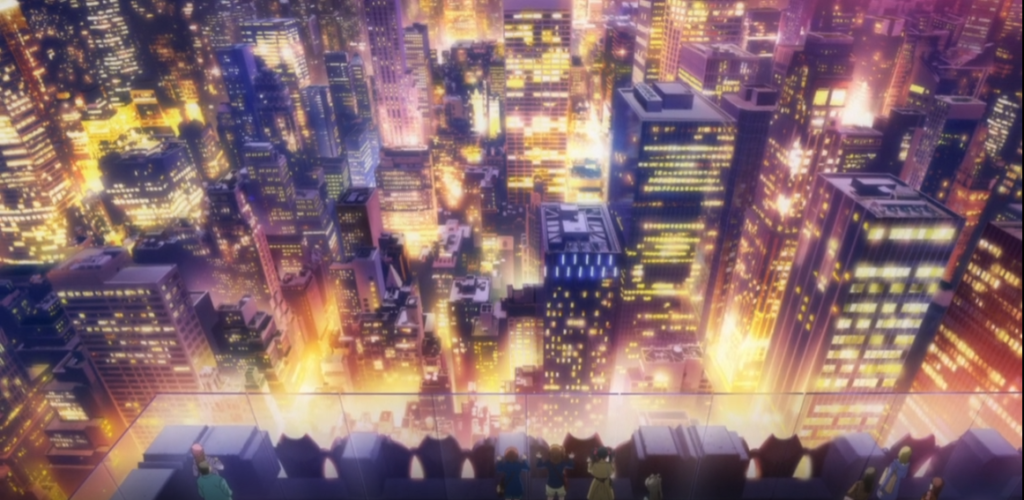 The beautiful story of nine girls winning the impossible
There is often a lot of controversy towards µ's because they are not perfect on the development side : it's quite unfortunate that Love Live! was never able to express to the best ever possible the full potential of the girls and so it had to come down to compromises. These compromises made a lot of people angry, rightfully, but there is that side of the Love Live fanbase which loves µ's like nothing else; they are not weird people but instead they are the first point of this post : they were able to see what many others could not see in those girls. School Idol Project is not perfect, far from being perfect, but it was able to bond so many people together and not only the girls in the anime.
School Idol Project is the very first title of this franchise that became an icon not only in the idol industry but also in the anime world because among every problem it is still an eternal unique classic; think for a moment, whenever someone says "idol anime" most of the people will think to Love Live because it's iconic.
The nine girls of µ's take the first step of this franchise with the objective of saving their school. Honoka, Umi and Kotori will be the first trio to produce a song and become the first version of the Nine Goddesses with the song "START:DASH!!", a song about a bird who is trying to learn how to fly, and by irony or not every future girl was attending the first song; even who said no to them, who followed them since the start, who hated them from the start, who supported them from the start and who thought it was the craziest idea ever. Everyone was already there as a sign of fate.
The best plate of School Idol Project are the characters indeed and not the story development or even the songs because every girl is unique on her own :
Maki is a girl who lost the love for music because she already accepted the destiny of working in her parents' hospital, but this love never faded away and by joke or not Honoka was her hidden light to discover again this passion.
Rin and Hanayo are two girls that are meant to be together because they complete each other, Rin is insecure of herself and of her body because she looks too much like boy while Hanayo is by far more cute than her which is a thing Rin always wanted, on the other side Hanayo is very introverted and Rin is her opposite because she is always happy and extroverted despite her fears.
Nico, the meme, is a girl who met failure and after seeing the others retiring after failing fell in desperation. She is quite the example of doing the opposite you want to show because she often insulted and harassed the early girls of µ's with the idea of actually motivating them. Nico often acts as a liar by telling everyone she is the main girl of the group but this is just because she never wanted to let her siblings down, they always thought her biggest sister was the number 1 idol in the universe. Meeting µ's meant to try to realise her dream again.
Eli is another girl who met failure but unlike someone other she started hating what she loved, quite ironic. She felt like to be the best dancer ever but after failing this path she started hating anyone who was dancing on stage, call it a superiority complex, but she was just refusing to see what she had to, the reality of the new world and how some girls can actually make her experience again her most loved thing of all.
Nozomi is the missing piece of Eli's puzzle, under a certain point of view, but most of all she is the reason why µ's were born and why µ's are for ever The Dream. The title of the Nine Goddesses of Music is not just a name by chance. Nozomi only tried to help Eli to make a new experience and help her overcoming her problems, but at the same time she was looking for that one specific thing she always wanted to know and feel : "family".
Honoka, Umi and Kotori are the absolute trio of this segment of story : they started it all and believed more than anyone else, loved it more than anyone else and desired it more than anyone else despite the initial doubts of this impossible journey. These three girls end each other because Honoka is the craziest of the three girls while Kotori is less crazy but more dumb and not careful, to keep them alive there is Umi, the most calm of the three, who always uses the head before doing something and even if she doesn't always show it she loves them more than anyone else in this timeline.
The bond these 9 girls will develop is what I can call a second family, it's hard to explain but I feel like they have full trust of each other and this will be explained soon after, this post will be long.
Among problems and twists µ's will manage to accomplish the first task : saving the school from closing, they only needed to make a certain amount of people join the school and they made it possible. But all of this happened within the first 13 episodes of the anime so what will ever happen in the second season?
After starting the activities as a school idol group they started becoming popular and the dream of competing in the Love Live! was real after all and the rivalry with A-RISE will become something, but not something as a war but more like a relationship of love/hate and respect. The 9 girls have a lot to learn but they will eventually understand what they need.
Competing in the Love Live! will push every girl to face every single fear and often realising what they did wrong : Honoka pushed herself too much beyond her human limit and she got ill, this event led to the elimination from the first edition of the competition and almost to the end of the school idol group; Honoka blamed herself too much and was on the point of quitting everything because of the fear of failing again. This event was emphasized by the even of Kotori leaving the country to follow her current dream, not an easy choice to do, and Honoka got shocked but most all all she felt let down by her best friend because she didn't make her aware of this important fact. Among desperation and controversy of all of these events Honoka regained her inner self and understood what had to be done : going back to her best friend and make her come back.
Friendship is often seen in anime as a cringe thing, mostly because of the way how Fairy Tail spoke about friendship (yo I am a kind of a fan of Fairy Tail ok?), but this thing is something we live every single day and by far is one of the most important thing of all : we cannot live without the support of someone and we cannot mature as a person. But how can these nine girls mature?
The second cour of School Idol Project is not anymore a normal slice of life of an idol group but now becomes the story of how nine girls became the goal, the Goddesses, of school idols and how nine normal girls were able to do special things. It has to be said that µ's' first objective was to save the school but winning the Love Live! goes beyond the simple winning : there isn't much time left for the girls from the third year because they will graduate soon, µ's cannot exist without the third year girls; in fact the name µ's is a reference to the Greek Nine Goddesses of music, Muse, and they cannot exist without every single girl. It is kind of ironic how Arisa, Eli's little cousin, wanted to join the group because she loves them and Honoka was happy about it but at the same time she started thinking about it for real : what are we going to do now?
It's not an easy decision to decide if the group has to continue, to follow evereyone's dream, or to stop, because it's just the nine of them and anything different wouldn't be right even because the name says that, but for sure µ's will carry of all the love these girls feel for each other and how much they will discover about each other again : Nozomi with her simple yet deep dream, Maki thinking that Santa exists, Rin's fear and hate towards her body; but all of this will reach the peak, the apex, at the episode with that song that made Love Live! iconic for the time being : Snow Halation.
It's common to think that Snow Halation is a Christmas song but actually this is a love song, but for who? No one in particular but it focus on the nine girls because their bonds are at the best shape ever, they are almost a single light.
The girls now are like a single snowflake falling down to the ground.
The end of the journey is near now, it was absolutely remarkable, but what did they do to become iconi? The nine girls were able to inspire not only the girls from the anime but also the audience : it happens a lot often that under YouTube videos, in threads and forums and even with some fans they all thanks µ's for inspiring them, making them happy, giving them a reason or helped them to find a reason to live for; to me being able to connect a work with the audience is the best thing of all. µ's defined the idol genre and their final song Bokutachi wa Hitotsu no Hikari is not loved enough : the beginning of this journey was with the song telling about a bird learning to fly and in the final song the bird started to fly, with the nine girls thanking each other for the beautiful memories and wishing to turn back time to live it once again, this beautiful dream. µ's was the story of nine normal girls becoming special by doing normal things, they became Goddesses able to inspire everyone and their inspiration will make probably the greatest act of Love Live! to date, a true miracle whose story is remarkable.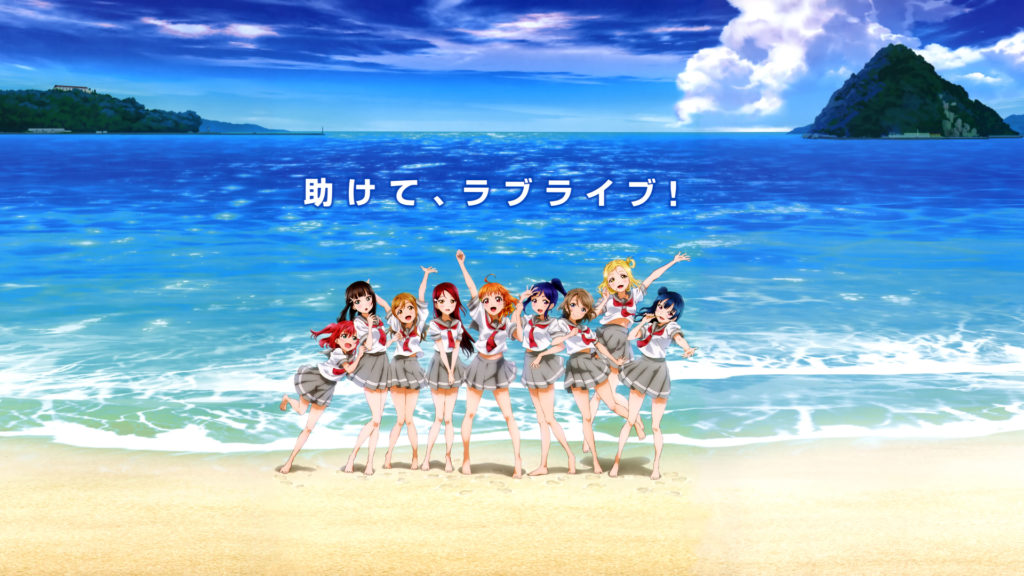 Of Goddesses and Monsters : the story of The Miracle
Love Live! Sunshine!! is seen, by most of the fans, the absolute pinnacle of the series as of today and I absolutely support this idea and I will also explain why it will be extremely hard to surpass it, but this is not the main topic of this post I am here to tell something else.
Sunshine is the story that begins with a normal girl, Takami Chika, who is in love with µ's and dreams about becoming like them and by so he wants to start a school idol club. What a wonderful dream right? Following what you love to the most and doing what you love, but everything will eventually come to a price.
Chika's best friend, Watanabe You, always wanted to do activities with her : Chika often went to watch You diving at the pool and the first thing You was going to do after coming out of the water was to look at Chika, clapping at her, but she was never able to join her best friend in such activities, she was too much normal. The idea of the school idol club was the perfect chance to join her in this weird adventure.
Sunshine shines when it comes to characters, easily the best point of all and even the narrative is really strong, and if I had to pick a single girl to talk about out of them all it would be extremely hard because everyone is almost on the same level; but there is one character in this show that made me feel different from the others : Sakurauchi Riko.
It might be easy to say to me because me and Riko are extremely similar : Riko moved to Uchiura because of her dad's job and had to leave everything behind, but this is not all; Riko was a student at Otonokizaka, the school saved thanks to µ's, and she was a pianist there competing in competitions but one day she wasn't able to play the piano, such an event moved her emotionally and she wasn't able to recover from it. Lost in the desperation of losing what you love the most. Riko's first appereance is right at the beginning of the anime shown as the most important piece of puzzle that will create the image of Aqours because thanks to her fears the Miracle was born.
Chika saw an opportunity with this girl and wanted to help her obtaining back the love for piano by making her join the early Aqours and stay with them, but once her love and passion would be back she will be free to leave any time.
Riko is the perfect example of anyone failing in his dream and giving up while Chika is the passion for it, they are two different people but at the same time so similar; Chika gambled on Riko starting to have feelings for Aqours and hoped about her remaining there and not leaving, and she won the gamble. Sometimes you just need to believe and trust someone other to achieve what you want because the human soul cannot live for ever alone.
It is a little funny how Riko was the reason why Aqours were born : she made the music, helped Chika with the lyrics for the first song and the most important thing, she was the reason why Chika kept being and idol despite failing, but we will talk about this later.
Their first live performance was, weird let's say but at the same time iconic : they thought to be alone but they decided to dance anyway but in reality they were supported by the whole city and so they danced even more. "Daisuki dattara Daijobu!" is just a song that tells you to do what you love and don't care about what the others think, this is what you love.
The first year trio here is really interesting because they are all the same person but in different ways :
Hanamaru lives in her own world of books ignoring the outside because she feels safe and happy by reading, Ruby lives in a reality where she depends from her older sister and is basically a scared cat, Yoshiko is a girl who fear the judgement of the others and she alternates between being a normal girl like the others want and being herself in all of her stupidity. There are many interaction between them that makes clear their bond. Hanamaru and Ruby are best friends, Hanamaru often helps Ruby and made her join Aqours because that was her dream : becoming like those nine girls from the Otonokizaka, Ruby is a fan of Aqours, and once she was able to join she took her very first step into a new world; Yoshiko is a childhood friend of Hanamaru and she always lives in a fake world of fallen angels and magic, even if she denies that reality and knows it's fake. But why is Hanamaru doing so much if she wants to keep living in her own world of books? On the Aqours' trial before joining them she was running on the stairs to reach the shrine but she stopped midway seeing Ruby hyped and ready to join them and she thought it was the ending deserved, after this event she came back to the library thinking it was the right idea; Maru only wants to help the others achieve what she cannot achieve as a form of gratification. A friend is always there to help right? Ruby decided to not leave her behind and so the two of them joined.
Yoshiko, or Yohane for those who are people of culture, lives in the middle age syndrome and thinks of being a fallen angel; she started being like this since she was a young girl, at the time with Hanamaru, and with time people started seeing her as a weird person. These events led Yoshiko to isolating herself and thinking that hiding is the best : she often wears sunglasses and a mask to hide her identity from people she knows, remember the library scene where she sees Hanamaru there? She only wants to hide from a world she fears. Sometimes you just need to accept yourself and so the others will do because at the end of the day you are not that weird, it's being yourself and the 5 Aqours made that clear : they will support her despite being weird, calling them little demons, doing sorceries and being a fallen angel.
These 6 girls together will already try to make a miracle happen, the school is once again in danger just like Otonokizaka and the similarity is funny, but the path will never be clean.
But what can we do? We can only make people interested in this school just by showing them the city right? Let's show them this beautiful place. "Yume de Yozora o Terashitai" is a song that wants to show you the beauty of their city and the dreams of every person that lives there, it's better to share something with everyone else.
They will hardly fail with 0 votes after their first invitational and compared to the others not getting a single vote is incredibly devastating, so much hard work for nothing. The first encounter with failure is always a big bad hit for anyone and Chika understood how it is, she worked really hard just to get 0 votes, is this the way to go? Should I keep trying? Are we enough? Why am I doing it?
And finally here I come to one of the points I care the most : trusting the others. Chika always kept running to her goal all alone but she forgot about everyone around her and at the first moment of failure she completely lost it; it's human to do so and nothing is wrong. It's really frustrating. Luckily there will always be someone near you to help and in this case it was Riko, reminding her why she is doing it.
Unfortunately, sometimes, people cannot recover from failing in something they truly loved and the third year trio is the example of it : they were the original Aqours and they tried to achieve something, but they failed. It's a shame because their friendship was absolutely beautiful and everything got ruined. Even more a shame because everything happened because of a misunderstanding : Mari was injured because of the new choreography, Kanan wanted to protect by stopping everything and Dia could only watch them fighting; in fact Dia couldn't do anything important but the best she could do was to avoid the same events happening again and this is the fact why she stopped talking about school idols with her sister Ruby and she wanted to block the upcoming new Aqours to avoid these events. But Chika is from a different breed of leaders. She made the third year trio reunite once again to run for the same goal. "Mijuku Dreamer" is a song about how a young dreamer never gives up on his dream.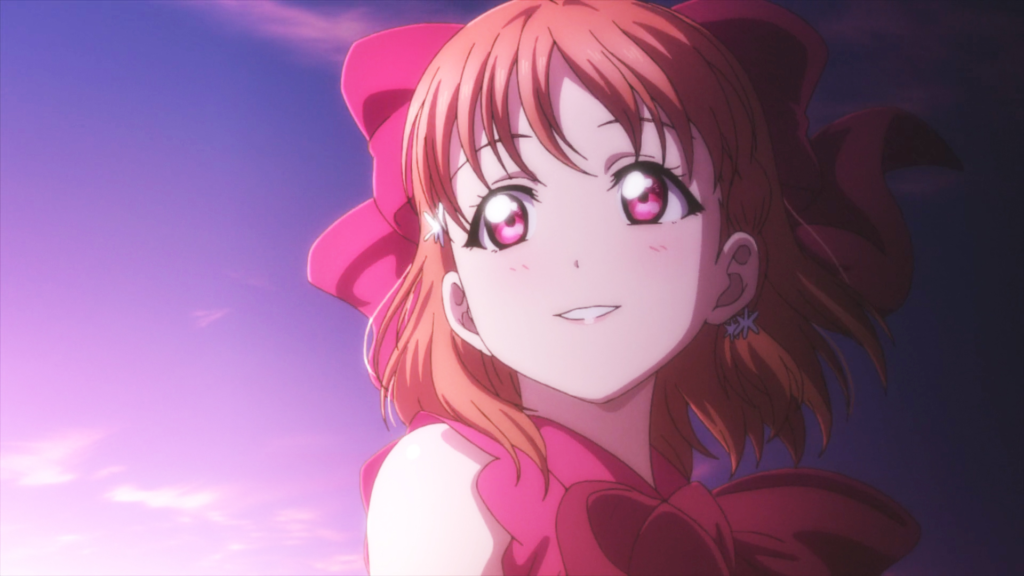 I often call Takami Chika "The Greatest Character I've ever seen",
for some good reasons I always think about.
Chika is probably the incarnation of the young dreamer, the person who starts to believe into something and wants to achieve it whatever it takes, and really wants to do something with such a dream. Her dream is something that cannot be made all by herself and so she has to involve someone other but not for her own interest, because she wants to make someone else feel the energy of that; loving something is a thing that everyone should feel. It is true that I stated that she actually just ran by herself with the others but the biggest obstacle showed up and she was powerless, her emotions weren't strong enough anymore but as I also said, there is always someone for you. Learning once again why she loves being an idol reminded her of what is the true objective but most of all what truly are the Aqours.
But here something comes, something everyone forgot about, a promise that was made back at the beginning of this journey : Riko started to feel once again the love for the piano, so what's next?
It is true that Chika said it, once Riko discovered again the love for piano she was free to leave Aqours, and she got invited to a piano contest that is on the same day of a live performance so what will happen? This is just one of the problems here because Chika spent a lot of time with Riko and You felt like she was getting far from her now, it's not like she started to see Riko as an enemy but she didn't feel anymore to be a part of Chika's life, her childhood friend. It is a little bit ironic that it was really Mari to help You with such a thing but there is something else to highlight here : Riko understood what she truly wanted. She wants to take back what the lost time ago but at the same time she wants to continue this crazy journey with the others, but how? It's exactly the moment for You to make her mind clear about this topic, is she still Chika's best friend? Yes, she is.
Riko now is free to go to her piano competition and the 8 Aqours are ready to perform, but they are not just 8 because they are 9 but a member is occupied with something she has to do; "Omoi yo Hitotsu ni Nare" is the song that tells us how it doesn't matter of far we can be physically or mentally, we will always be together.

From the first season of Sunshine I want to highlight Mirai Ticket specifically some words that she says :

"Let's become light as I want to shine in the future
I won't fail anymore"
because these words are the exact result of the first season of this magnificent anime and what it wanted to tell us, let's not fail anymore.
And now tell me, is your heart shining?
The second season of Sunshine is just commendable
The second season of this anime starts in a way many have missed : it starts with Aqours failing once again, losing once again the competition, but this time they are all smiling because they know there is another opportunity and with all together they can do it. In this second half of the anime we will see the girls facing the differences of each other, we will discover new sides of the characters from the most stupid, like being scared of dogs, to the most serious, is more important the competition or the school's destiny?
Both of them are important the same way, that's it. Aqours had to split to compensate the live performance and the school event on the same day, but was this the best idea?
One of the main rules of µ's was "it's only the 9 of us", but Aqours are not µ's. They were never meant to be them. Chika was never meant to become Honoka. The dreamy girl decided one day that it was time to stop following the steps of someone else and embrace her own dreams and create her own path.
And so the Aqours can be only the 9 of them, they will dance with a live performance to keep the Love Live hopes alive and they will make their very first miracle happen and here we are, to the moment I've been writing to reach, the reason why Takami Chika is my all time favorite character :
It might be really as simple as that because we will never try to make a miracle happen right from the start, it's pointless, we will always do our best to achieve it by ourselves with our strengths because we believe in it, at some point we will feel tired of trying and only then we will try for the last time as hard as ever hoping for the miracle we need; it might be as simple as that. Everyone has a dream which cannot be made true and we often wish for a miracle, but is your heart shining enough? It will start shining only when you feel like you can do it, you must feel the inner fire calling for it, for the miracle you are waiting for.
Chika felt this more than anyone else and tried the most dangerous thing of all, recreating the choreography that got Mari injured years before, but at what cost? It's for sure a crazy cool move that will make everyone surprise but it's extremely risky, so why? Because it's determination, impossible to explain if you don't know it. "Miracle Wave" is the story of a wished miracle.
Sometimes the miracle won't happen though and it hurts, a lot. Aqours failed again but in the most important of the tasks : saving the school because the number of the new students is not enough to keep it alive and so it will be closed. It hurts to see all of your efforts destroyed with that, they were so close to doing the impossible, but not everything is lost because there is a city who watched over them and that city is extremely proud of these 9 girls; the only goal now is only one, to make the name of the gone school immortal in the books of the Love Live and with the support of everyone Aqours will make it happen.
Show it, show to everyone your own unique wonderful world filled by the hopes, the dreams of everyone, show to everyone you "Water Blue New World" by singing the song of your life and remember to never ever forget about everything that has made yourself, everything you've lived until this very moment and the people you met, make them all some "WONDERFUL STORIES" and sing them with all of your love.
After everything the girls will be divided and they will lose, for the moment, their identity as Aqours. A sequence of events will make them reunite in the beautiful country of Italy and understand what's the answer to the question "What are the Aqours?". Exactly what are they? We will never truly know but for sure we know something : they are all girls who reached their dream which wasn't only to win a competition but also to create a family that will never end and will be for ever united thanks to the sky, doesn't matter where they are at the moment.
The girls that go by the name of Aqours are the monsters which wanted to become normal people, but ended up becoming the normal monsters doing incredible things ready to inspire anyone.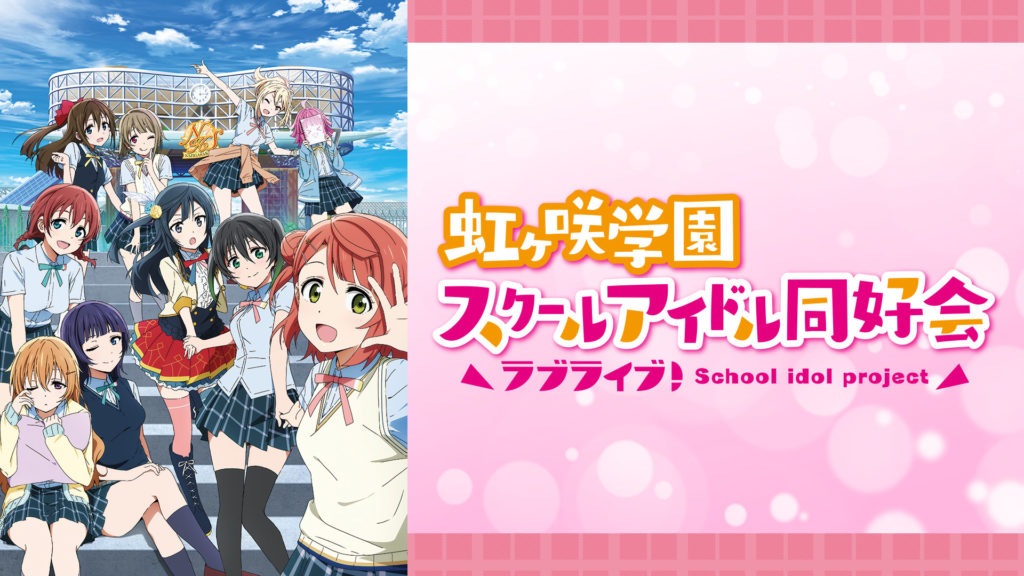 A big change, the Nijigasaki School Idol Club
Fresh air now, Nijigasaki is a spin off based off the mobile game which is a completely new thing here : we are not anymore mainly talking about a group but about the single character.
I find Nijigasaki in the between the controversy and the perfect change : at first sight as a new fan I hated it for how different it was, girls singing solo? But after some times, and thanks to someone and a rewatch, I got to understand why so many people love it : it's different; not only in the anime format itself but also for how it approaches the viewer with every single episode where every girl goes through a personal problem and she has to solve it alone or not, and the best part comes when you discover how a character really is.
Ayumu Uehara, the so leader of the Niji girls, sings for the love of someone and later on it becomes just a pure passion for it. Ayumu loves Yuu and she often gets envy of the others when they approach Yuu, which is fun.
Setsuna Yuki, a girl who rejected the love of singing because she felt betrayed by the other girls of the previous idol group since she was the only one putting all of her efforts.
Kanata Konoe, a girl that at first sight might seem just sleepy but instead she is a hard worker and looks after her little sister a lot.
Rina Tennoji, an introverted girl who actually wishes to have friends but her nature makes everything hard.
Kasumi Nakasu, the cutest idol in the universe with the only goal of being cute.
Shizuku Osaka, that between theatre and singing she has to fight for both of them.
Emma Verde, a girl who is in love with idol until the point of moving right to Japan just to become one of them.
Karin Asaka, a model who refuses to like idols but in the end she really loves them.
Ai Miyashita, everyone's most loved idol who is always there to make everyone happy.
The big first difference here from any other Love Live is that any character is a unique person who easily goes into a conflict with the others because they are completely different : the cute nature of Kasumi goest against the hardworking Setsuna, the love for the idols of Emma goes against the indifference of Karin, the shy Rina becomes the best friend of the loved by everyone Ai and so on. It's an endless circle of love-hate that makes everything beautiful to watch and most of all, the songs are incredibly great but we will talk about this later on.
Every episode of the anime goes through the story of each girl facing every problem and eventually fixing everything, and so the Nijigasaki group will grow and grow until becoming 9 girls, soon 12, where everyone loves singing.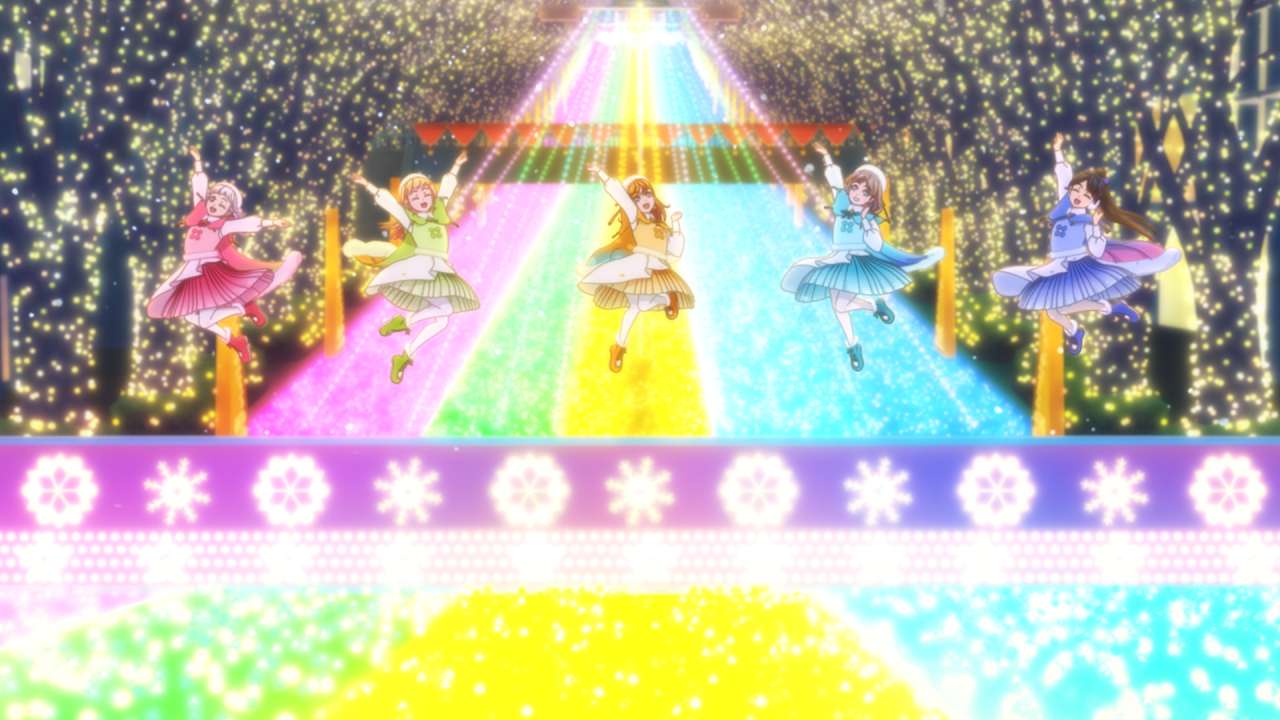 The revolution that goes beyond the Idol genre : Love Live! Superstar!! writes once again the idol book.
This time we have totally everything different and howdy, this start was brilliant.
How can I express the first 3 episodes? I think I can just say "realistically fantastic" and I'm not afraid to say this was the best start of any Love Live yet because for the first time we had what Love Live almost kinda lacked in the first episodes : seriousness.
Wait wait don't get me wrong, I will never say a thing against Honoka and Chika because they are both one of the best written characters I've ever seen, but what I mean is the reason of how the school idol group was born.
µ's were a little bit lucky with the rankings in the early start while Aqours were a little bit like a fun group not aiming for something great yet.
Instead here in Superstar there's the X factor I always wanted to see : the determination of overcoming your biggest weakness;
Keke is a character I must spend some words with because she is the Y factor for the anime; yeah she is kinda random because she came to Japan just because she fell in love with the school idols, but I still cannot blame her because if you admire something you want to become like that or at least to catch it. But that's not her main point. Her shine comes from how she was cheering Kanon through everything and when she was struggling Keke was there to cheer her up. She is a real hard worker for what she dreams of : the first 3 episodes shown us how she really worked out hard to become better and better, surpassing her biggest weaknesses, and even she is a human, as she was struggling on the main stage before Tiny Stars, but knowing she is not alone could help her.
If I can say it, I personally consider episode 3 as one of the best episode of the whole franchise. It rarely happens but here I felt the passion of the girls, how they wanted to pursue this impossible dream, because winning the Music Festival was impossible for a new born group, but their burning fire of determination was incredible; arguably the best part was Keke shaking of fear, it shows you that, even if she seemed the most sure of herself one about being an idol, the anime makes you understand that she is human anyway. This episode was really special because you could see how much they cared about winning the Fest to start their new dream. Of course, it's not easy because you are starting from a point of literal nothing, you have no experience and most of all no one knows you. But let the song begin, it will speak for itself.
I must call Sumire a pure surprise. She is the complete opposite of what I was thinking of her. I used to snob her as the new Nico but more social media like or public, instead I had a feeling of something that I know really well. When you are not in your spot, your real spot which you deserve and instead you start falling down and down in an endless circle of failures and giving up on anything because at some point you will say "it doesn't matter how hard I try, this will always be what I get" and personally I wouldn't be satisfied at all with something that doesn't suit me.
And I must say again, I love Kanon, she is so well written. "Then take away the center from me. Compete against all of us", this single line made my blood boil and my soul burn from determination because this is what it truly means to be a leader. GO scout who wants to be scouted, make the others enjoy what they are doing, make them love it and give everything they have. GALAXY.
Chisato was my biggest question mark. I wasn't able to discover much about her properly before the airing of the anime, and I thought she was going to be a dead side character. Glad I was wrong. Right from the start Chisato has been a focus point for the plot and how the story went, being a friend, if not the best friend, of Kanon was the best choice of all here. Saying what I think about Chisato, or even more how she is, is hard to me because she showed us many important and special sides of her; the confidence, her deep love for dancing, how much she cares about Kanon and how she trains hard the girls even if she is not a member of the group yet. I was completely blown away by her in the end : I will never forget her tears in episode 3, I will never forget her double episodes and I don't want to forget how funny she is. She got introduced as Kanon's childhood friend and, for how odd it is, it goes well for the development of everything. Her double episodes were flawless and I'm not saying it because I love this anime, not at all, but I'm saying because I really think it; I could feel and I know how she felt, mostly because I've experienced this, but the best part was that she actually always wanted to join Liella. She had been fighting her inner demons of winning the dance competition, and for how sad it is the dance course is on the way of joining Liella, and making such decisions are not that easy; it's never easy to give up on something you've been loving for so much. But Liella were something special for her and so it was time for her, it was her time.
Dear dear Ren, I used to bet so much on her even before Superstar. I kinda have a weird love for the Presidents girls with long hairs that hate school idols at the beginning, especially because she has long and black hairs. I wasn't expecting such a strong character.
Ren is like a racing car : she will aim straight forward without stopping if it's not something really important or game changing; and that's her and her dream, or by any means her way to see things. This girl got deeply and badly shattered in the past by many unfortunate events which led her to ending in almost complete poverty and, completely, alone.
Indeed one of the biggest news in this Love Live is a certain topic which has never got touched : death. Due to circumstances Ren is alone now and her memory of her mother are the only thing she has left. This girl's only example is the mother, who now is gone, and her desire to make the school the best in music is her only dream; which was also his mother's dream.
This was absolutely a difficult task because changing the idea of someone who got moved so much by such a tragic event is not easy, at all; it wasn't easy, but discovering the truth made a miracle happen.
And so they became 5, and so Liella! was born.
Isn't it frustrating to never feel at the right spot always and not being able to express the best version of yourself? It is and a lot, I have to say.
Episode 10, to my eyes, is just one of those episodes I will never forget for the rest of my life and it doesn't matter who is my favourite character, who I dislike and who I feel neutral to; we are all simple humans when we are in front of what is the apex of dedication, desire, love and determination.
I've never been a Sumire fan, at all, and I've always felt indifferent to her, except for when she was funny, but that's the nice part of Love Live : discovering sides of a character you've never seen and, eventually, understanding their frustration towards the world. Sumire is a complex character : she acts as she were the peak of the human realisation, she always wants the top spot and she thinks of being able to do anything; and I mean it's true and she doesn't realise this, but what I'm trying to say is that she always felt that way because she never had the right tools and opportunities to show how great she really is. As a kid she was forced to play the side character and she was being told "It's an important role anyway"; the same thing is a little bit with the anime : her original episode didn't show us how great she could be and only let out her funny and meme part, and some small sides of her personality but I didn't mind much because that was more an episode about her finding the link with the other girls. Yeah the other girls. With Kanon she was always in that mood of challenging her to reach the peak, right from the start she wanted the centre position and Kanon, understanding how she truly is, just said "Then come and take it away from me". Never asked for a better answer from Kanon.
With Chisato I've never seen any really important moments unfortunately and almost the same with Ren; but the game changer is with Keke. With Keke I hard a hard time understanding them because they quickly changed between best friends to enemies, depending on the moments, but what I could always see was that atmosphere of not necessarily "war" but of challenge between them two. Keke often challenged her and Sumire answered back. On some sides Keke is better and on other Sumire is better. But it all comes down to the point when you realise you are on the verge of losing someone for ever, someone that even if you always make fun of you really care about, and to be honest I don't think most of the people want that; sometimes it's time to put away your pride and do what's right to do.
But what happens when you are mentally blocked because of past events that give you a feeling of being inferior? That's a really bad spot which is hard to escape from. It's a nonfiction that you are likely going to need someone that will make you understand, and that person was Keke, her biggest enemy but at the same time her biggest friend.
Make that person feel special and how she is really at the right spot, not stealing anyone's spot or being bad at it; make her feel unique.
Yeah this is easily the biggest strong point of Superstar, the way every character behaves with each other. It's not something that we have never seen in Love Live but not in such a beautiful form : in School Idol Project I've always felt not the greatest of all because it was often unlinked how the girls bonded, the second year with the second year and the third with the third and first with first, I don't know if you get my point of view but just think about Rin and Hanayo or Eli and Nozomi; in Sunshine the thing changes because we see interactions between different years, you just need to think about the RikoYou episode where Mari had a big talk with You or even the YohaRiko episode with Riko and Yoshiko. But what about here that everyone is on the same year? What about the fact they are just 5 and not 9 like we were used to? What about the fact we are still at the first season?
Those are all legit question and all of them have an answer : starting from the point of start, the 5 first year girls were the biggest news and they way it worked was just fantastic because you didn't have any tier to respect, not those many formalities and right from the start, more precisely from episode 10, I've started to feel that feeling of "wow, they are like a family now". Liella's special thing is really this one, bonding really well in such a short time and it doesn't feel forced at all, it's really natural and human.
Yeah "human", another strong spot of this anime. The most human character here is, nah it's everyone. Kanon had to face her biggest weakness and fear, Sumire had to face her fake vision of the world, Ren had to face a fake dream she thought was real, Chisato had to face the risk of failing because of her desires on what she loves and Keke had to risk everything.
I decided to keep the best for the ending of this section : Kanon.
Kanon left me speechless many times, starting from her voice to her behaviour with the others; I kinda struggle finding the words because she is one of the most unique characters in the whole franchise but let's go with order : She is a really shy girl insecure of herself and with a trauma of her past about singing. She is not able to sing in front of the public, because as a kid she failed to do that, but regardless this she LOVES singing a lot, really a lot, and take it as a joke of destiny she became a school idol. Kanon loves Liella and she feels safe with them, she completely forgets about her fears, and the best example of it is when she was about to start singing Tiny Stars with Keke; she was completely struggling and she was stuck, thinking if she could ever do it, thinking if she could ever overcome her fear, but seeing Keke scared as well made her understand how important that moment is. And so let the song begin.
This is the first time I see the iconic orange haired girl being the leader not because of her attitude to never giving up, but just because I really feel like she has to be the leader : she cares a lot about the other girls, she loves singing, she loves being an idol, she fights for being an idol and now she is fighting with everyone for the Love Live and here comes the best part of all for her :
Episode 11. This episode was really important for the anime itself because it set Kanon as the pure leader and let her overcome her childhood fears; I say many times that is really hard to overcome something alone, not like someone can be too weak to do it by itself or because I don't believe it's actually possible, and it's because most of the times we need to see and understand how really is the reality of the world : Kanon thought her not being able to sing in front of the public was because of her past and just failing that day; but we grow up and we improve, most of the times, and that was her opportunity but she couldn't see it by herself.
And here come Chisato proving why she is such a fantastic and perfect childhood friend for her, she is always caring about Kanon and she really always wanted to be important and "useful" to at least her; in the past she felt to being useless and just too much for her but she has always been wrong about that. Chisato created the best ever plan possible for Kanon and finally she could understand and most of all she was able to sing in front of everyone.
What I've been trying to say is that for the first time we have a Love Live where all the main girls are singing and dancing for pure passion. I'm not discrediting SIP or Sunshine, I'm still a huge fan of them, but I've always felt some girls there weren't born to sing.
Let me explain : starting from the basis, Kanon always loved music as she was in the school choir as a kid.
Chisato wanted to have something unique for her that she could love and be obsessed with it a way to tell Kanon she wanted to become like her, to have something she could be the number one.
Keke is purely in love with school idols and she literally has everything to lose for this passion, I'm not even going to complain because I relate to this feeling and I support it. In my basketball days I used to do anything for the sport.
Sumire sees Liella! as a way redeem herself against the show business, since it snobbed her badly, but she found a group of friends she find are fantastic,
Ren, on the other hand, is living her dream of being an idol to follow the steps of someone; on one hand to hope for a miracle and on the other for the pure love of this.
You can see they are all passionate girls living their dream, fighting to win and become who they want to become to keep high the name of their School and, who knows, maybe to reach the peak like some others were able to do it, right?
I will give a section to SunnyPa because they deserve it, those two girls despite they seem some villain like, they were crucial in the early stages of Liella!. Yeah I think it's mainly also thanks to them if they were able to become the next Love Live generation because they pushed them in the middle section of the story, and yes they aced Chisato to make her join them. Sadly they didn't have that much screen time and I'm not really a fan of their unique song, the only one we've seen, but I have high hopes for the second season to become famous like Saint Snow in Sunshine and not thrown in the trash like A-RISE in SIP.
In this brand new season we also see a brand new type of comedy which doesn't break any momentum of the pacing of the story and gives a great watch without feeling any holes in the scenes.
Love Live has taught us that not always everything can go as we would like, and there is no road to success without failure, but we need to move on and rise up again; nothing is over until it's not really over.
Every song tells a story
Something that not everyone gives enough attention are the songs because every of them tell a story, it's not a random thing that I've written the titles of songs in this review; sometimes the simple eye won't see what it is meant to see and so the music will take place in a world where the feelings are always connected.
The story of µ's started with the tale of a bird learning how to fly and ended with the bird which has finally learnt how to fly.
The story of Aqours started with a simple text of doing what you love, which led to the ending that doing what you love was the best choice of all because now you have so many beautiful memories you will never forget.
Every girl from Nijigasaki started with a song and they all ended with a song that unites them all.
Liella! started as some tiny stars shining in the dark sky, hoping someone to see them, and they are shining so much right now : they are the star that shines brighter than any other.
What is your story now?
Love Live has taught me many many things I will never forget, it made me remember things I forgot but most of all it made me understand how to love the people I care about and how much I want to make my own dream come true. I have a dream, I want it to become real and I have people who are supporting me.
What is your story? Do you want to realise your dream? Do you believe in miracles? Go on, run and catch it; face every difficulty, face every fear and beat them all because the only person able to stop you is yourself.